Clinical trial of the first China proton therapy demonstration device with 180-degree rotating treatment chamber
On April 26, 2022, the first patients receiving the 180-degree rotating beam therapy were launched online and offline at the Oncology (Proton) Center of RuiJin Hospital affiliated to School of Medicine, Shanghai Jiao Tong University. The first domestic proton therapy demonstration device was jointly developed by the Light Source team of Shanghai Institute of Applied Physics, Chinese Academy of Sciences and Shanghai
Apactron
Particle Equipment Co., LTD..
Zhimin Dai, director of Shanghai Institute of Applied Physics, points out: In 10 years, the construction, debugging, testing and inspection of the proton accelerator, the fixed beam therapy room, and the 180-degree rotating beam therapy room were completed by the Light Source Center from Shanghai Institute of Applied Physics, RuiJin Hospital and Apactron Co. under the support of the Shanghai municipal government and Shanghai alliance investment, The clinical trial of the 180-degree rotating beam therapy room indicated that China's proton therapy devices have entered the world advanced ranks.
Xidong Sun, vice president of alliance investment and chairman of Apactron, said: The clinical trial starts from November 30, 2021, the 180-degree rotation treatment system enters into the clinical trial in 2022, really realizing the domestic independent device innovation. It was wished that the clinical application can be conducted as soon as possible after completing the registration.
Zhentang Zhao, Academician of Chinese Academy of Engineering and director of Shanghai Light Source Big Science Center, said: For proton therapy, the rotating beam's multi-angle and control technique is the most critical, and is a test for their entire research and development work.
Guangning Ning, academician of the Chinese Academy of Engineering and president of RuiJin Hospital, said: During coronavirus-2019, the domestic radiotherapy equipment is being researched and developed by RuiJin Hospital. Also, the 360-degree rotating beam therapy system will be carried out, and are committed to completing clinical trials in 2022, thus making the first domestic proton device clinically effective and treating cancer patients in China.
The 180-degrees rotating rack and180-degrees rotating treatment room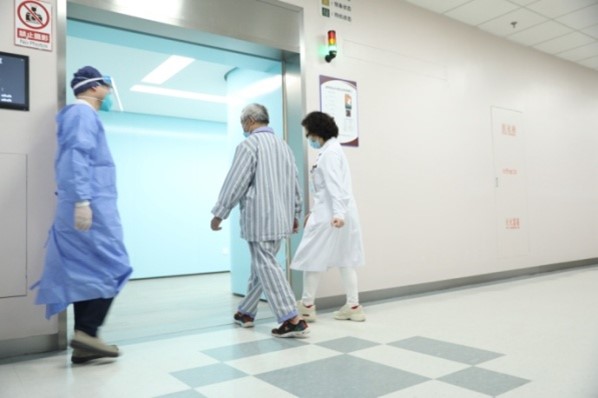 The first patient entering the 180-degree rotating treatment room
The domestic proton therapy device of the 180-degree rotating frame (11-m long × 12-m high × 8-m wide) has a 96-ton weight. Some key parameters, such as three-axis concentricity of the rotating frame and beam center accuracy conform to the design indexes and reach the international level of similar devices. In addition, the domestically developed six-dimensional robot treatment bed and the image guidance with respiratory movement management function in the system are equipped, to achieve rapid and accurate patient positioning and improve treatment efficiency.
The 180-degree rotating frame combined with the robotic treatment bed provides treatment at almost any irradiation angle. Doctors and physicists can choose the best way to treat the tumor and protect the surrounding healthy tissue. The first four patients, belonging to sacrocaudal chordoma, meningioma, sphenoidal liposarcoma, and peritoneal lymph node after liver cancer surgery, respectively, fell well after their first treatment.
Congratulations to the R&D team, medical team and operations team!
Compiled by the English Translation & Edit Group, SINAP